MORE PRECISE: MULTIOMIC DATA
X

PATIENT HISTORY
This team understood that genomic testing alone provides only a partial picture of the patient and their cancer, and that advances in technology provided a unique opportunity to analyze multi-modal data for actionable intelligence. For each patient, they would step beyond routine testing and consider the entire range of multiomic molecular data, as well as their personal cancer history.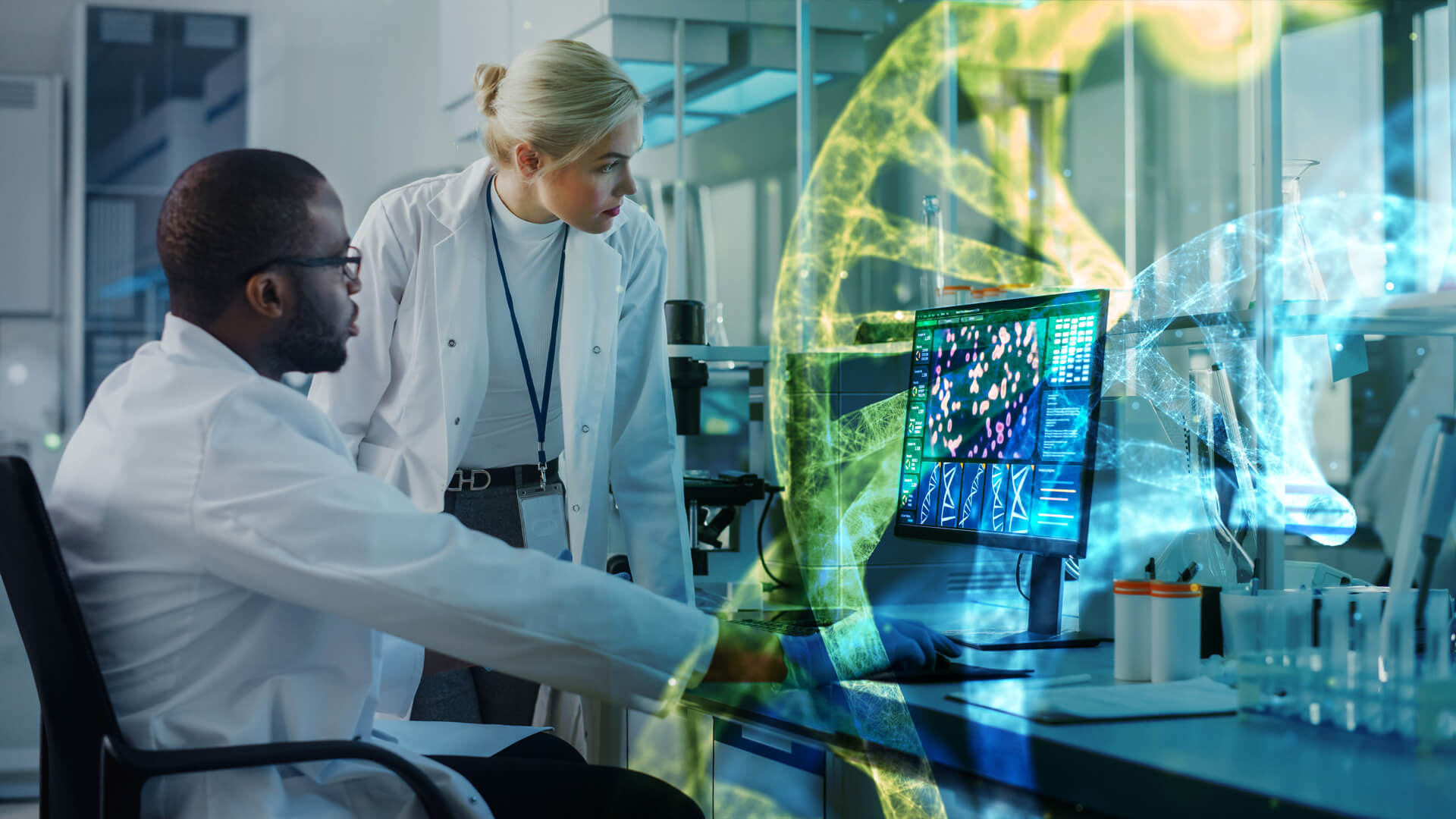 USING THE POWER OF AI TO TURN COMPLEXITY INTO ACTION
The Perthera Therapeutic Intelligence Engine® has been developed for over a decade, and is driven by proprietary, patented, AI-powered technology.

With 10 Databases that include over 50,000 heuristic rules and algorithms, it factors patient medical history, treatment history, and multiomic molecular information to match patients to therapy options best tailored to their cancer profiles.

Constantly updated and enhanced with new data, and RWE from outcomes analysis, the engine includes published clinical research, active clinical trials, as well as all FDA-approved therapy options.
THE PERTHERA PLATFORM
We built the Perthera Precision Oncology Platform to bring our precision oncology capabilities to oncologists in every care setting, and to make valuable data available for research and the development of new therapies. The Perthera Platform produces the Perthera Report®, and provides access to an expanding pipeline of Real World Evidence.
MAKING PRECISION ONCOLOGY THE STANDARD OF CARE, ACCELERATING INNOVATION
The ongoing evolution of our technology, platform and products will help to power an evolution in clinical and therapeutic oncology so that patients will see better outcomes.

We are determined to make the Perthera Precision Oncology Platform the best available decision-support system for Oncologists, and to make our data pipeline products the leading accelerant for therapeutic innovation.
Investment Partners
Perthera is a privately held corporation with experienced leadership and an advisory board that includes key thought leaders, researchers, experts in bioinformatics and precision Oncology.

The company has received support from Pilot Growth Equity, McLean Capital, and Labcorp Venture.

If you are interested in learning more about Perthera, or for financial or investment inquiries, please contact us at +1 (703) 286.0780
" Over the past decade, we have seen a sea of change in precision oncology: comprehensive molecular profiling has become a commercial commodity for the most part. The ability of a treating physician to order molecular testing that provides a patient-specific portrait of DNA, RNA, protein, and even phosphoprotein alterations in each patient's tumor is technically possible now, which has generated an explosion in data. Along with this ocean of data is the massive increase in new precision therapeutics, clinical trials, and treatment options.

Consequently, the biggest issue in realizing the promise of precision oncology is not the data generation part- it is the data interpretation part: how to take this ever-growing fountain of molecular and clinical data and turn it into an actionable, straightforward tool to help the treating physician in their treatment decision making.

This is what Perthera does and why I helped to co-found Perthera: we need a solution that keeps the patient at the center of everything we do – a company that stands on top of the laboratory data and clinical EMR data and is a data integrator, helping provide information to assist the physician and patient make the most informed and timely treatment plan, tailored to each patient.

Such innovation, which was once isolated to the lab, is now creating opportunities for successful businesses that solve serious problems and generate economic growth. " — Chip Petricoin, PhD, Chief Science Officer
" Over the past decade, we have seen a sea of change in precision oncology: comprehensive molecular profiling has become a commercial commodity for the most part. The ability of a treating physician to order molecular testing that provides a patient-specific portrait of DNA, RNA, protein, and even phosphoprotein alterations in each patient's tumor is technically possible now, which has generated an explosion in data. Along with this ocean of data is the massive increase in new precision therapeutics, clinical trials, and treatment options.

Consequently, the biggest issue in realizing the promise of precision oncology is not the data generation part- it is the data interpretation part: how to take this ever-growing fountain of molecular and clinical data and turn it into an actionable, straightforward tool to help the treating physician in their treatment decision making.

This is what Perthera does and why I helped to co-found Perthera: we need a solution that keeps the patient at the center of everything we do – a company that stands on top of the laboratory data and clinical EMR data and is a data integrator, helping provide information to assist the physician and patient make the most informed and timely treatment plan, tailored to each patient.

Such innovation, which was once isolated to the lab, is now creating opportunities for successful businesses that solve serious problems and generate economic growth. " — Chip Petricoin, PhD, Chief Science Officer