PERTHERA PUBLICATIONS
Perthera has published results that demonstrate that patients with pancreatic cancer and actionable mutations who were treated with a highly ranked treatment option listed in their Perthera Report had significantly higher Progression-Free Survival (PFS) and Overall Survival (OS) rates. These results were featured at oncology conferences such as ASCO, and in journals such as The Lancet Oncology, AACR, etc.
Perthera is proud to add this study to its compendium of research publications.
To view other publications Perthera has contributed to, including our latest study published in The Lancet Oncology which demonstrated increased overall survival benefit for pancreatic cancer patients who utilized matched therapies, visit our News page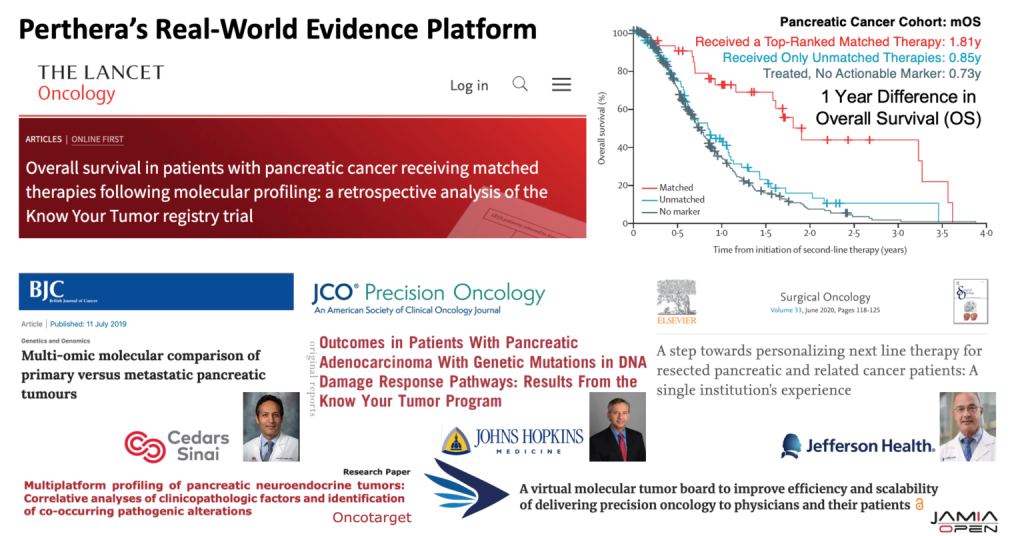 If you're a physician interested in applying Precision Oncology within your practice for any solid tumor type, and/or are interested in becoming a part of Perthera's clinical study initiatives, click here to contact us and we'll connect you with one of our Precision Oncology Consultants for a conversation!
Retrospective Case Series Analysis of RAF Family Alterations in Pancreatic Cancer: Real-World Outcomes From Targeted and Standard Therapies
PERTHERA AT THE ASCO 2022 CONFERENCE
Perthera was proud to be a part of clinical research featured at the ASCO 2022 Conference. The Perthera Precision Oncology Platform can help physicians and clinical scientists advance their clinical research efforts and uncover findings that have significant clinical implications for the treatment of cancer. This poster and abstract examined possible biomarkers for predicting responses of pancreatic neuroendocrine tumors to a commonly used therapy. We welcome all Oncologists or clinical scientists who are interested in applying Precision Oncology to their research efforts or clinical care to contact us for more information.
ASCO ANNUAL 2020 ABSTRACT #4641
This poster, which focused on KRAS mutations in patients with Pancreatic Cancer, was published in partnership with physicians from several respected institutions such as Cedars Sinai, Johns Hopkins and the Cleveland Clinic. The Perthera Precision Oncology Platform was utilized in the study to provide structured, curated clinical outcomes data and ranked therapeutic recommendations.
Click here to be linked to the official ASCO Conference poster presentation page, or click on the poster below to download a copy of our poster!
The video below, which features Dr. Andrew Hendifar's (Cedars Sinai) presentation regarding the clinical study, summarizes some of the key findings.